Discussion Starter
·
#1
·
or how would you handle this:
Doing a flood house, homie had 80% of the existing drywal cut and removed 3' up from floor. I call my drywall sub, who i have been friends with since 5th grade and using for years, to bid it. Ask if he wanted to take a look at the job (he already knew the job since they initally hung all the new stuff and finished it 4yrs ago when we converted this garage stall into living space). He just asked for a run down and told me to bid it at $1.20/sqft and i provide the drywall since homie had most torn down already. I ran the numbers on 25 sheets and told him the price and asked if that was right, it sounded low...he said that's fine since they dont have much to do and it'll be a quick fill in job.
Back history, many years ago, one of the first jobs i hired him was to tape/texture a bathroom we hung the rock, he did it moonlighting from his company for $300. I get a call that night from homie, after ddrywall buddy said it was done, asking who was going to clean up the mess....they never laid down rosin paper, taped anything off, so i had to pay to carpet clean their living room where they tracked mud on their shoes across it, spent hours scrubbing the fixtures of overspray, then had a nice long chat about common sense, laying down protection, cleaning up and he told me, that's going to be extra...okay, that's fine with me, i just dont like angry calls from homies, so next time you bid a job figure a COMPLETE job like everybody else in town does. Things went great the following years and they handled it like a real drywall outfit.
Yesterday afternoon, buddy calls and said they're done with this job, but it's going to cost $2160.....$860 more than he originally told me. I asked how/why so i have something to try to explain to homie why the huge increase out of the blue...."I dunno, tell'em we had to hang more rock than expected, i cant do it for that price i told ya, i dont know what i was thinking" That night homie calls piiiiissed off, asking if this is how they normally leave their jobs, since you guys (meaning us) always picked everything up before we left. I was told about the huge pile of scrap in the driveway, and excess dust all over the floors, mud globs and texture all over the floors....which we have to tile and install laminate flooring over soon...so i told homie i'll be out first thing in the a.m. so i get out there today, spent an hour picking up all the snow covered **** they left int he driveway and loading it into my dumptruck, then braced myself to go inside and about blew a gasket, esspecially since late late last night homie calls to cancel $1800 worth of work i had bid as part of the scope to offset the increased drywall cost.
I called and left a message on my buddies VM since he did'nt answer, i honestly kept my cool since getting bent outta shape never made things easier to deal with and asked how i was getting charged $860 more than quoted, now i have to pick up everything they left behind, pay for the landfill fee, now i have to pay a guy to spend a day over there with an ice scraper chipping up the dried up mud, then use a scrub brush to wash it all down, and then mop up the entire bottom floor because they did'nt put down any rosin paper or take things away when they were done, all in all i'll be over $2200 lost in sales and clean up on my end because of his oversight and lack of responsiblity. He called back few minutes later hollaring like a 12yr old girl he was so worked up, F me, F you, i did that job for peanuts already so i was'nt going to spend any more time taping things off or cleaning it up, your a f'in XXX, F you, do what you want, your a fing xxx dont ever fing call me again, f you...and then hung up on me.
So how would you handle this, in light of above scenario and pics below...keep in mind tile and laminate flooring are going down: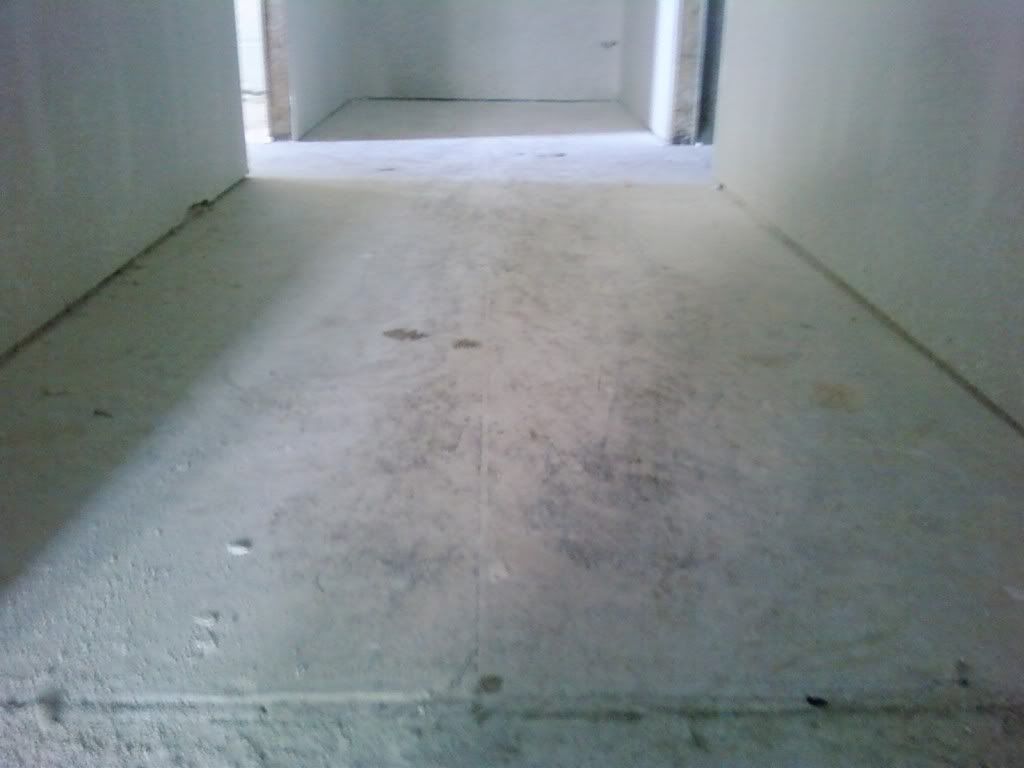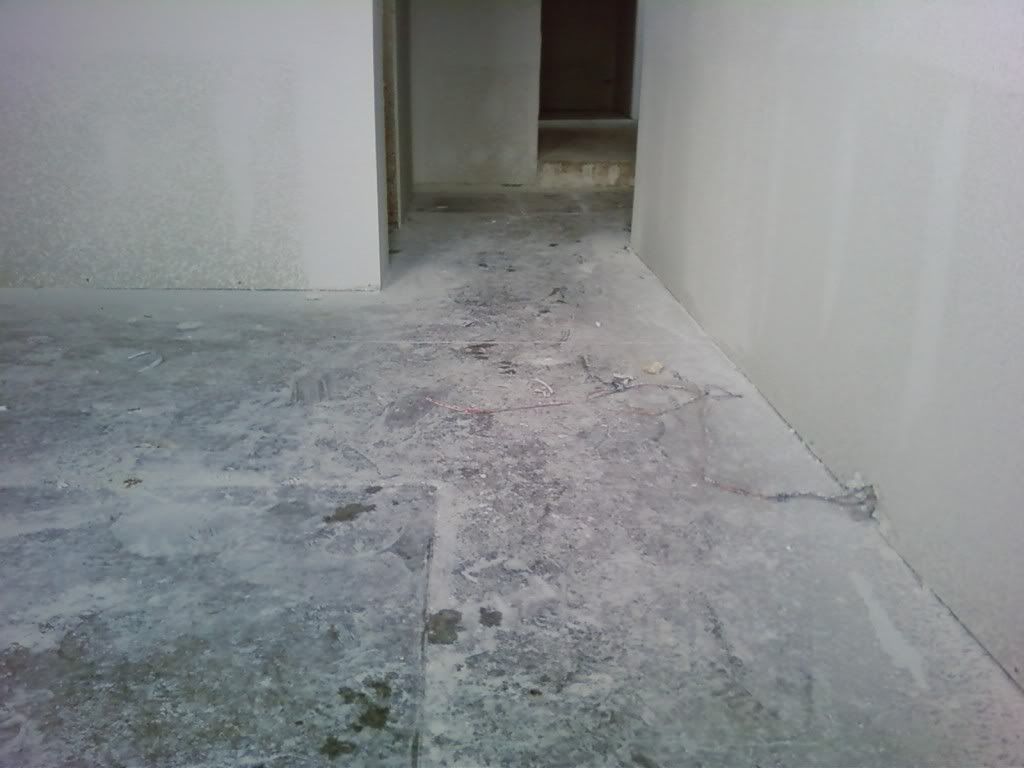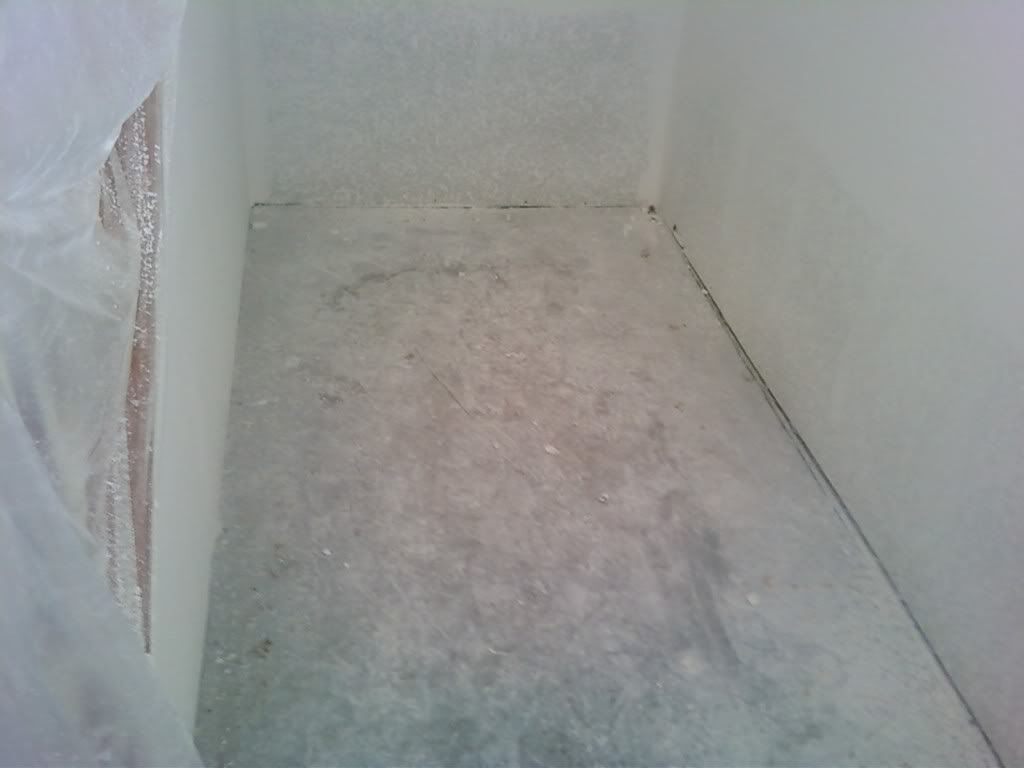 then my dump truck 3/4 load of sheetrock, and junk left behind