It is time for some major revamping of our vans storage. What we have been using has worked ok...but we decided we could be more organized, use less space, and be more versatile.
Here was our setup..which did work ok...
Here she is all stripped down...and cleaned...man it was dirty! I should mention this is an '01 E-350 Superduty Extended cargo van.
We had some Advantech on the shelf so we put in a new floor. We just went over the rubber and used a self drilling screw.
We wanted a small shelf unit still, so we cut down one of the new we took out and put it right behind the drivers seat.
We are using some Dewalt Tough System boxes currently and like them, so that is the system we invested in for organization and storage. To start we built a sub frame that we attach another 3/4" Advantech to.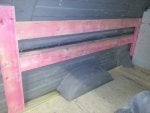 More to come...