Discussion Starter
·
#1
·
My roofer finally made some progress with the help of my men. As soon as my metal guy completes the counter flashing at the chimny I can finish it.
Now I have to find two nice finials to complete the tower section and the area where the ridge meets the conical roof. Anyone have any good links for this?
The mason had fun staging that area. Now he is waiting for the custom made radius brick for the face of the fireplaces. Looking forward to seeing that come together.
Window arrive from Kolbe & Kolbe on Monday. They are all made with laminated safety glass so they will weigh a ton. I will be glad to finally close this place in.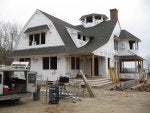 I think the gable and at the gambrel needs some dressing up with a shingle pattern. Don't you think?
Dave