Discussion Starter
·
#1
·
With the purchase of a new Kapex comes my desire to better the stand situation. We have three stands, two of these and a Ridgid suv stand. The Ridgid has our 718 mounted to it and it will stay there.
The stands use clamps. Currently we have them somewhat permanent to the saw. I want the ability to take just the Kapex if a job is small and I don't want to lug around the stand. Plus with the brackets, the height is off to use sys1 for work support if I choose to.
I made an mdf base to attach the Kapex. Drilled holes for the rubber feet to drop into. To screw the Kapex to the base I used these inserts. They are a 1/4-20 thread and we have a ton laying around.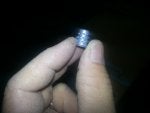 Drilled all the holes the Kapex base has so I can screw it down where ever I want, although I will prob use the front two and the back two. Installed them from the bottom so they can't pull out of the mdf.
Used a Philips 1/4-20 cap screw to attach the saw. I wanted to use an Allen head that matched the allen tool on the saw, but a 1/4-20 is a smaller than that. Who doesn't have a Philips somewhere close...
Next I am starting on my fence extensions to work with the v-groove in the Kapex base. I am thinking t-track incorporation and a tape measure as a part of it all. Think fiscally savvy UG stand...