·
Punching above his weight
I mentioned rigger's bags in the other thread I made about Vetos but I love mine so much I figured it deserved its own thread.
This is my Florida Coast Rigger's Bag. It costs $25 dollars and it's the best bag I've ever used.
Canvas construction. Only drawback is water intrusion. Only happened once but I had to take all my tools out and dry it overnight. Like all canvas bags you're going to have to stuff some cotton in the bottom of the pockets or else your awls and other pointy things will pop through the bottom.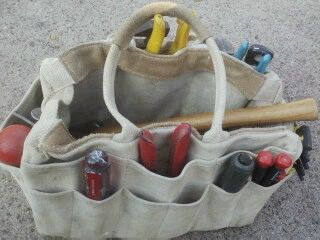 There are other riggers bags available that look much less like a purse and that can fit larger long handled tools, but often times they go for $100+.