I want to show you guys a cool Iphone app. Hours Tracker. I thought some of you might be interested... I made some pic for example...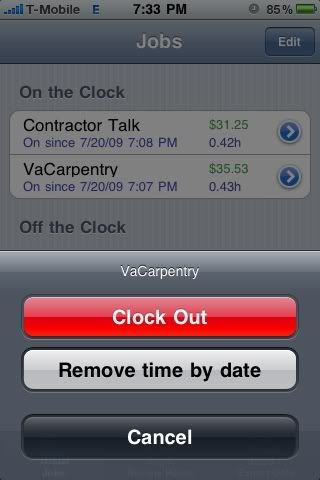 Hours Tracker supports tracking time worked for multiple jobs and can export that data via e-mail in human-friendly form and in spreadsheet-friendly CSV (comma-delimited) format. E-mail exports can be sent via message body and/or file attachment. The user interface of Hours Tracker is designed to match the look/feel of standard iPhone applications and streamline common tasks.
Touching a job brings up a menu with options for clocking in or out and cleaning up old data by date (if you have already turned in a time card for it or otherwise want it removed). Touching the Clock In button starts a timer for that job and Hours Tracker begins displaying details about the time being tracked. Hours Tracker will keep track of time worked and money made while Clocked In, even while you use other applications, talk on the phone, even turn your phone off. Touching the Clock Out button records the time worked.
Information about jobs (e.g. the name, the hourly rate, time worked) can be edited at any time by touching the arrow next to the job name. You can also delete or edit time worked (change the start/end times, the effective hourly rate, or add a comment) and add time worked in the past or even in the future.
The "Review Hours" tab gives you a report-style view of the time worked. This view summarizes time worked by job and your choice of Day, Week, or Month. This allows you to see the bigger picture without having to drill down into each job.
The "Export Data" tab lets you customize the e-mail export and then prepares an e-mail message to be sent by the standard Mail application on your iPhone (no extra configuration needed). You can use this e-mail to fill out your time sheet, time card, or to fill into a spreadsheet on your desktop. You can select an e-mail address to send to, set the message subject, and specify data export formats. You can choose between "Friendly" (a nicely formatted summary of time worked), "CSV Data" (a spreadsheet-friendly comma separated data format), and "Nothing" options for both the message body and attachment of the message. All changes made on this screen are remembered.
Features:
* Intuitive user-interface for ease-of-use.
* Keeps track of time worked for multiple jobs/projects (even at the same time).
* Updates onscreen hours and money earned in real-time for active jobs.
* Supports full edit, delete, and add of jobs and hours worked.
* Supports entering different hourly rates for hours worked entries, and remembers the rate for hours worked in the past (useful if your rate changes).
* Allows free-form comments to be added to hours worked.
* Allows viewing of hours across jobs, grouped by day, week, or month.
* Exports data via e-mail in human-friendly or computer-friendly formats as message and/or attachment.
* Uses standard iPhone Mail application for e-mail data exports.