Discussion Starter
·
#1
·
Here's the situation: About a year ago we started to see a ceiling tape joint, in the basement of one of our customer's, open-up from what appeared to be water damage (see the first picture taken on 05-08-13). The damage is near the fireplace (on an exterior wall). Directly above this area is the family room. It has a fireplace with hardwood floors. The fireplaces are stacked directly above each other (see second pic of family room fireplace).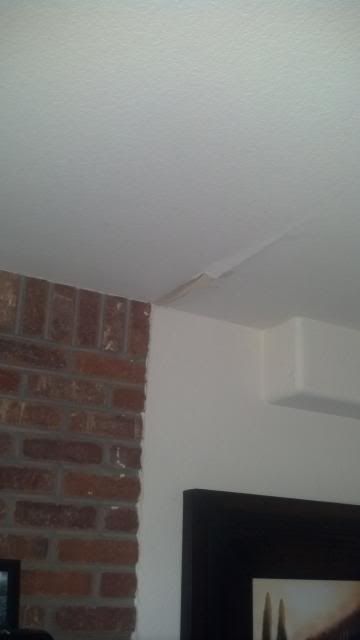 We look in the family room for any signs of water. Drywall is dry, flooring is in perfect condition. We go outside to check flashing at roof/chimney – nothing. Check window caulking – perfect. We can see no water entry point outside. We decide to leave it and monitor it.
On 5-16-13 it starts to rain – nice steady rain. It rains through the night into 5-17-13. On 5-17, I go to the house to check the ceiling – Nothing! Dry as a bone. I even put my moisture meter on it – dry!
After that, I basically forgot about it until March of this year when I'm at the house for a meeting with the homeowner. I go down to check the ceiling (see the third picture.) The tape joint damage is nearly twice as big – it is dry at the time.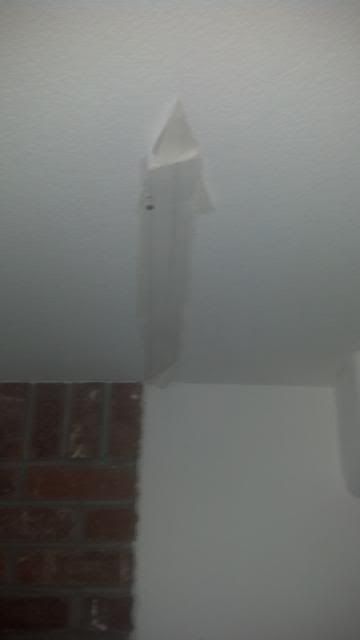 Talked to the homeowner and decide that the next time I'm there, I'm going to cut a hole in the ceiling to see what's going on up there. Note: it's dry when it rains. Damage seems to be happening over the winter (when the upstairs fireplace gets used). I'm now suspicious that possibly the gas line supplying the family room fireplace may be condensating and dripping to the ceiling below.
The fourth picture is what it looks like with the hole cut. The corrugated is the fire pan for the family room fireplace. There is a 1/8" hole in the corrugated directly above where the ceiling damage first appeared. The hole seems to be maybe a missed screw or something like that. There are actually several of them, but only one that seems to be causing trouble.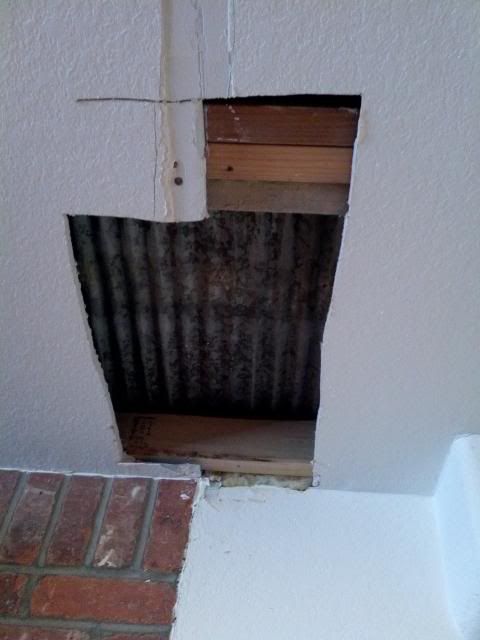 Right now, my best guess is that water is collecting between the corrugated pan and the floor above. It drips through this hole in the pan slowly and over time beats-up on the tape joint.
Any guesses as to what's causing it and/or a plan of action?
Paul