Working on a deck at my own home that had existed when we bought the house 15 yrs ago. Fully sanded the sucker a few times and finally had it with the old thing last year.
I ripped off the shot 2x6 pt from the 24"oc 2x6 joists.
Deck is freestanding and set away from the house. It's about 24" off ground, and partially surrounds a semi-inground pool.
Undecided on synthetic vs pt going back on. Will add new joists between the existing ones to make 12"oc if going with new made made.
Because the cut ends will be up against the pool I am hesitant about going with capped composite. Thinking about PVC,
unless there is someway from preventing pool water/moisture from getting into the open ends on composite.

This is a deck that gets used for only about eight to ten weeks max out of the entire year and I am torn between big budget and doing annual staining.
Also considering making it a 12x15 instead of 19x16 deck to save money on synthetic and give me a bit more room in the yard.
I realize every brand has good, better & best lines.
Read good things about Azek and I see Lowes has
THIS STUFF
Its says composite in title but specs list it as pvc.
Any good or should I just play it safe and avoid BigBox altogether?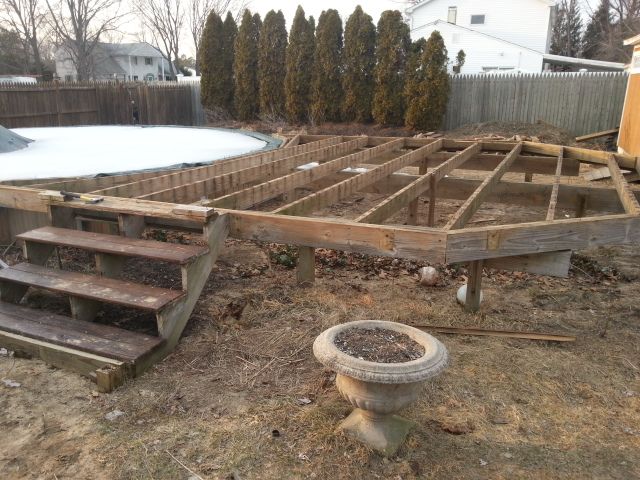 The existing joists seem to be okay but have a lot of splits and holes in the top.
Should I remove them and flip them over or will joist tape work in keeping water out?