Discussion Starter
•
#1
•
We have partnered with
Sears Commercial
to give away a stainless steel
Kenmore Built-In Dishwasher w/ SmartWash® HE Cycle
.
To enter, reply to this thread with your response to the following question.
What are your biggest challenges when handling appliances for your projects?
On
April 1, 2016
we will do a random drawing to select the winner.
Kenmore® 24" Built-In Dishwasher w/ SmartWash® HE Cycle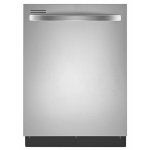 The Kenmore built-in dishwasher 1241 features the exclusive SmartWash HE Cycle that delivers excellent cleaning results while using the least amount of resources for each unique load. You'll get the right wash for every load, every time. This dishwasher also includes a Time Remaining Display that provides you with valuable information, like the amount of time left in your cycle, while the exterior cycle status light signals when your dishes are clean, dry and ready to use. And, it operates at just 53 dBA, so you can carry on everyday activities, like listening to music, without interruption while your dishes are getting clean.
See the new article sponsored by Sears Commercial here on our site!
"Most major appliance suppliers will welcome the opportunity to ensure your procurement goes smoothly. After all, as a contractor, you're more likely to be a return customer if you and your client experience a snag-free process. So the first step is to identify the suppliers that can provide you with the appliance you need. Next, get them on the phone - talk to them about your project. You're building a relationship that can have a direct impact on your bottom line, so it's well worth taking time to get answers to some "what if" questions. And the answers to those questions should help you decide if you're talking to the right company."

How Pros Ensure a Smooth Appliance Installation
Added Note: Responses to this thread should be limited to entering the giveaway by responding to the posted question.