Discussion Starter
·
#1
·
Hey Everyone, Just looking for some insight on my next business move.
We are general contractors that specialize in Residential/Commercial, Renovations and Additions. I currently employ 4-6 full time employee's, amongst 20-30 sub trades and usually manage 2-3 projects at a time with budgets typically between 50-150k. Right now i operate with 2 crews as follows;
1# Demo/Framing/Forming crew, 2-3 guys
2# Millwork/Finishing crew, 2 guys
I am always looking for new ways to improve efficiency, and manage my time better. Unlike some general contractors, i choose to have employee's to do the bulk of the carpentry related jobs, Rather than hire subcontractors 100% of the time. I believe this results in a quicker schedule and better customer satisfaction. However, In order to keep everyone busy and to juggle all the other trades. It eats up all of my time. I feel that most of my day is wasted by;
-Picking up materials for my guys
-Driving around to suppliers and wholesalers
My current equipment situation is as follows;
1- Diesel pick up truck
1- enclosed cargo trailer
1- dump trailer
To get to the conclusion of my dilemma. I am considering purchasing 2, 3 ton cab over diesel trucks. Does anyone else run these for their crews? They are apparently very easy to drive, and also fuel efficient. My thoughts are that this will enable my guys to go get what they need, when they need it. Rather then them waiting for me to come drop off their materials. The cost for 2 of these trucks USED is around $60,000. Which is about the price of a new diesel pick up :blink:. Attached are some photos of the trucks i am talking about.
Enclosed Cube Van for Millwork/Finishing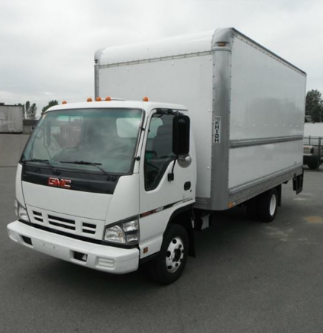 Landscape Flat bed dump for Framing/Demo
Any opinions would be greatly appreciated :thumbup: