Discussion Starter
·
#1
·
I have seen a couple painting door threads and this is how we do it.
Two 2x4s laid down wide on the floor. One 2x4 at the top with one screw going into the top of each door. The doors tilt back with the top 2x4 being supported against the wall with only the pressure of the leaning doors. If you lean them just right you can get more of the bottom than you would think. Space them out enough to get your arm in between with your gun and hose.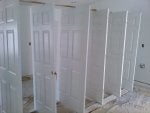 Remove from 2x4 and touch up top and bottom. It won't be much.