Discussion Starter
·
#1
·
I'm intersted to hear how you all build your carcasses.
Do you run your sides down past the base like on the left, or set them on top of the base (on the right)?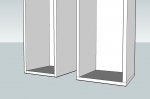 Unless I have a good reason not to, I drop the sides on top of the base. It provides better vertical support, and I only need to make the 1-1/2" adjustment to the measurement once (to the height) if I'm building a whole set at the same height but different widths instead of adjusting for each individual unique cabinet width.
I build 'em like that, but I see them the other way all the time...
I know this could turn into cope vs. miter :furious:, but thought I'd dip into the collective wisdom anyway. :thumbup: