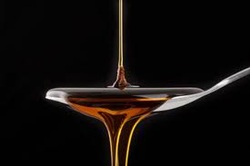 I never really knew much about syrup as a kid. All I knew was that I loved it on my pancakes and even dipping my sausage in it.. gave that fried pork meat a sweet coating that made it even better! I LOVE syrup who doesn't?!
It wasn't until I was stuck in bed with the flu last year, did I learn about the golden sweet liquid we traditionally put on or flap-jacks and French Toast known as Maple Syrup.
It was either the Discovery Channel, or Food Network that aired a show on Pure Maple Syrup.
All Maple Syrup is the same right? Wait.. what? MOST syrup on the market is actually a synthetic (man made) version of the "Pure Maple Syrup" that comes from the sap of maple trees. You remember as a kid, watching TV and seeing commercials where the old lady bottle at the breakfast table comes to life. She makes sure you are enjoying her syrup (which comes in a multitude of different flavors: BUTTER FLAVORED, CLASSIC, Reduced Fat..). The STAPLE to the American hot breakfast was not real.. that she has been pedaling a synthetic version of the REAL Maple Syrup the whole time and I was none the wiser.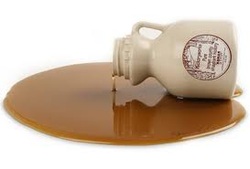 I was in the grocery store today, made me think of this topic. I took pictures to illustrate this story, but sadly my blackberry is not wanting to share the pics I took so please just visualize with me. Every time I have gone to the grocery store since seeing that show, I have wanted to find some REAL MAPLE SYRUP. The REAL DEAL... Vermont's Best.. What I found was much like what most homeowners/business owners find when they call a contracting company. Prices were all over the place. From the cheapest (what is actually in it?) of around $1.98 to $12.00 for a bottle.
My
attention was on the syrup section in the breakfast isle. It was a bigger section because this store is rather large. There were probably 60 different kinds of syrup there for my liking.
I first searched for the REAL syrup.
I tend to be a person who pays for quality. If there is a deal to be had.. sure great.. I saved some money.. I always tread cautiously because I am all too aware of "too good to be true".
If there is a deal and I get what I pay for, I am happy for that fact. I am the person who is known for spending more on a tool, or whatever it may be, to get quality, get what I want, AND what I paid for. Rarely do you ever get what you want from a "deal".. what is worse is putting up with something just because you got a deal on it.